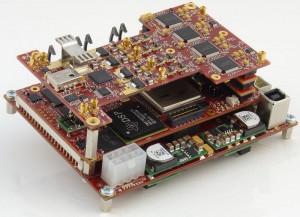 The EVP6472-384 is a standard EVP6472 combined with a quad 14-bit ADC running at 125MHz.
The platform comprises of the following:
Dual 700MHz C6472 DSPs
Four 14-bit ADCs (ADS5500 – TI) sampling at up to 125 MHz
Virtex-5 FXT FPGA
On-board low-jitter clock synchronizer (AD9510) coupled with a 245.76-MHz VCXO
Stand alone
USB2.0
Micro SD card slot
RS232
Power supply
SMT6048 Host-side USB software interface to Sundance hardware
Code Composer Studio 5
Xilinx ISE 14.x FPGA Tools
Limited technical support is also available from TI. Click here for more info.
If you wish for more detailed information about the make up for the EVP6472-384 please see the links below:
SMT111, SMT372T, SMT384