Xilinx Artix-7 FPGA SoM
Trenz Electronic TE0712 is a FPGA module integrating a Xilinx Artix-7 FPGA, 32 Mbyte Flas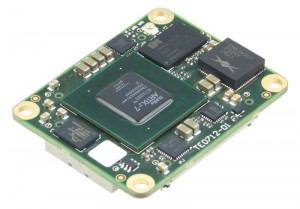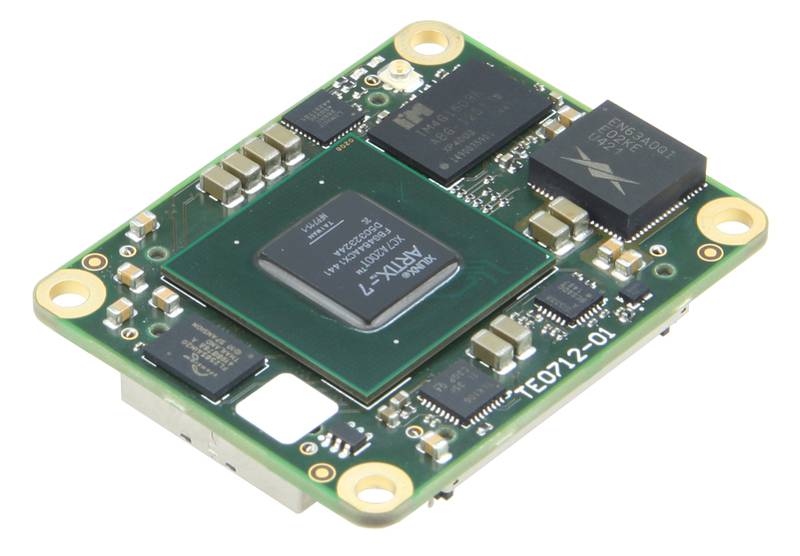 h memory for configuration and operation, and powerful switch-mode power supplies for all on-board voltages. A large number of configurable I/Os is provided via rugged high-speed stacking strips.
All modules in 4 x 5 cm form factor are mechanically compatible.
All this on a tiny footprint, smaller than a credit card, at the most competitive price.
TE0712 Flat rotating view                      TE0712 Standing rotating view
Key Features
Xilinx Artix-7 FPGA module (100T, 200T), supported by the free Xilinx Vivado WebPACK tool.
256 Mbit (32 Mbyte) Quad-SPI Flash memory (for configuration and operation)
4 MGTs (multi gigabit transceivers)
1 GByte DDR 3 Memory
100 Mbit Ethernet Phy in RMII Mode
Programmable Low Jitter PLL (Silicon Labs Si5338)
On-board high-efficiency DC-DC converters
Core voltage regulator: 10 A
Supply voltages: either 3.3 V or 3.3 V and 5 V
Plug-on module with two 100-pin and one 60-pin high-speed hermaphroditic stacking strips
Up to 154 (75 differential pairs + 4 single-ended) single-ended FPGA I/O pins available on B2B strips
2 user LEDs (through system controller)
Only 5 x 4 cm!
AES bit-stream encryption
Evenly spread supply pins for good signal integrity
Device supported by the free Xilinx Vivado Design Suite WebPACK.