FMC Wideband RF Transceiver AD9371 based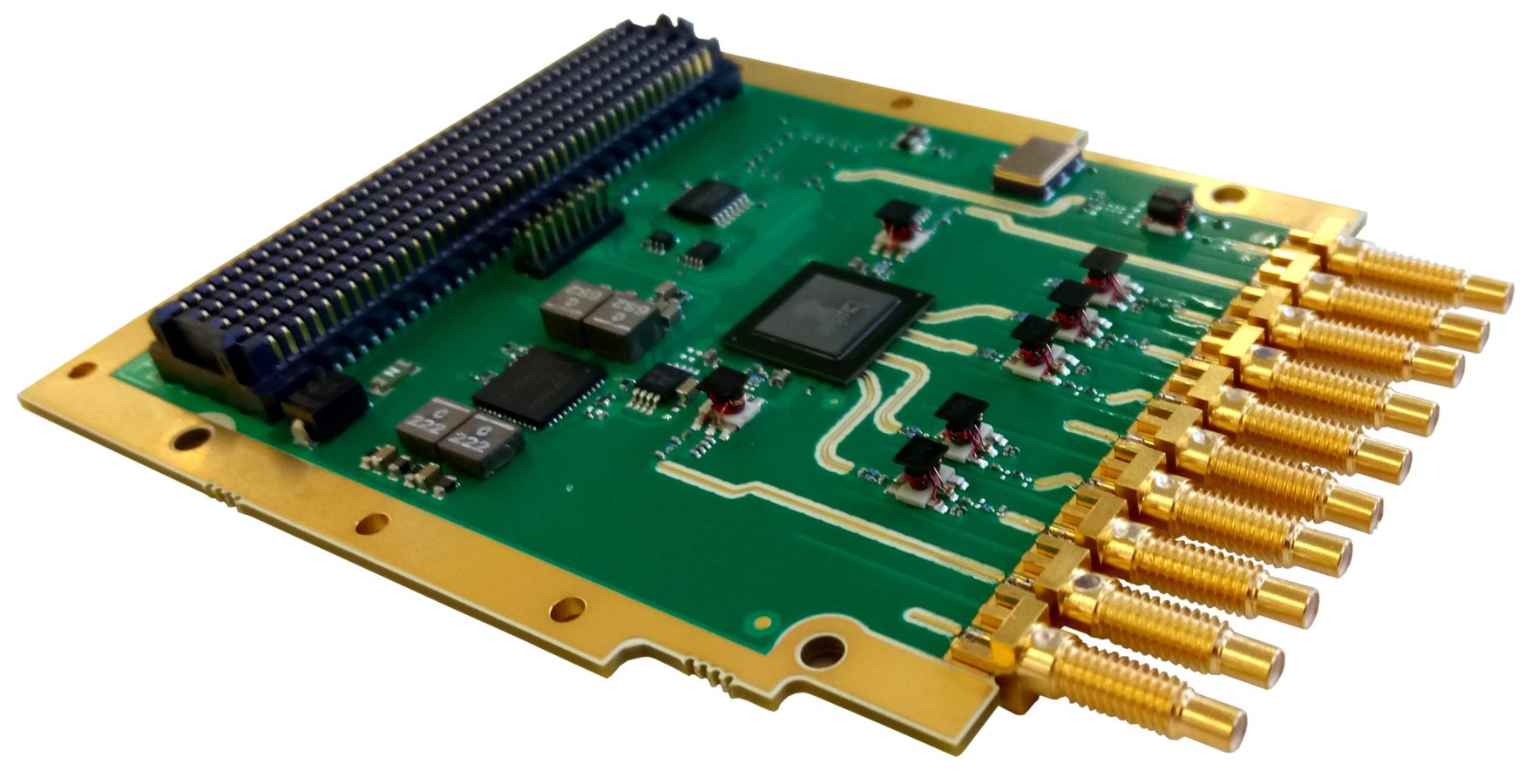 The FMC-ZU1RF-A is a FMC for RF wireless communications applications based on the AD9371 component from Analog Device Inc (ADI).http://www.sundance.technology/wp-content/uploads/2018/01/FMC-ZU1RF-High-Res-Cutout-e1516095831285.jpg
This FMC is fully hardware and software compatible with the ADRV9371 evaluation board from ADI.
The AD9371 component is a highly integrated, wideband RF transceiver offering dual channel transmitters and receivers, integrated synthesizers, and digital signal processing functions. The IC delivers a versatile combination of high performance and low power consumption required by 3G/4G micro and macro base station equipment in both FDD and TDD applications.
The AD9371 operates from 300 MHz to 6000 MHz, covering most of the licensed and unlicensed cellular bands. The IC supports receiver bandwidths up to 100 MHz. It also supports observation receiver and transmit synthesis bandwidths up to 250 MHz to accommodate digital correction algorithms.
The transceiver consists of wideband direct conversion signal paths with state-of-the-art noise figure and linearity. Each complete receiver and transmitter subsystem includes DC offset correction, quadrature error correction, and programmable digital filters, eliminating the need for these functions in the digital baseband.
Several auxiliary functions such as an auxiliary analog-to-digital converter (ADC), auxiliary digital-to-analog converters (DACs), and general-purpose input/outputs (GPIOs) are integrated to provide additional monitoring and control capability.
An observation receiver channel with two inputs is included to monitor each transmitter output and implement interference mitigation and calibration applications. This channel also connects to three sniffer receiver inputs that can monitor radio activity in different bands.
The high speed JESD204B interface supports lane rates up to 6144 Mbps. Four lanes are dedicated to the transmitters and four lanes are dedicated to the receiver and observation receiver channels.
The fully integrated phase-locked loops (PLLs) provide high performance, low power fractional-N frequency synthesis for the transmitter, the receiver, the observation receiver, and the clock sections. Careful design and layout techniques provide the isolation demanded in high performance base station applications. All voltage controlled oscillator (VCO) and loop filter components are integrated to minimize the external component count.
PanaTeQ offers the VPX3-ZU1-SDR-A development system based on the VPX3-ZU1 3U OpenVPX Zynq Ultrascale+ as the and the FMC-ZU1RF-A for typical Software Defined Radio application.
Features
Vita 57.1-2010 specification compliant
FMC High Pin Connector (HPC)
JESD024B interface up to 6144 Mbps
LA Bus LVDS and Singled-Ended
Operates with VAdj = 2.5V to 1.5V
Air and Conduction Cooled compatible
Fully ADRV9371 HW/SW compatible
Dual Transmitters (Tx)
Dual Receivers (Rx)
Observation Reciver (ORx) with 2 inputs
Sniffer Receiver (SnRx) with 1 input
TX Ext LO Input/Output
RX Ext LO Input/Output
Reference Clock Input or Output
FPGA GPIO direct Input or Output
RF Coverage 300MHz to 6.0 GHz
Tx Synthesis Bandwidth (BW) to 250MHz
Rx Bandwidth: 7MHz to 100MHz
Support Time Division Duplex (TDD)
Support Frequency Division Duplex (FDD)
Fully integrated independent fractional-N radio frequency synthesizers
Applications
Software Defined Radio
Wireless Infrastructure 3G/4G
FDD and TDD active Antenna Systems
Electronic Warfare
Drones and UAVs
Military Communications
Ordering Information
FMC-ZU1RF-A-1 Ordering Info

Block Diagram
FMC-ZU1RF-A Block Diagram

To download full specifications for this board please click here