3U OpenVPX Module
Xilinx Zynq UltraScale+ MPSoC with FMC HPC Site and Dual 1000BaseT

PanaTeQ's VPX3-ZU1B is a 3U OpenVPX module based on the Zynq UltraScale+ MultiProcessor SoC device from Xilinx. This upgraded version provides a dual Ethernet 1000BaseT interfaces on the VPX P2 connector.
The Zynq MPSoC integrates a Quad-core ARM Cortex-A53 based Ap-plication Processing Unit (APU), a Dual-core ARM Cortex-R5 based Real-Time Processing Unit (RPU), a ARM MALI-400 based Graphic Pro-cessing Unit (GPU) and an UltraScale+ Programmable Logic (PL) in a single device. It also includes on-chip memory, external memory interfac-es, and a rich set of peripheral connectivity interfaces.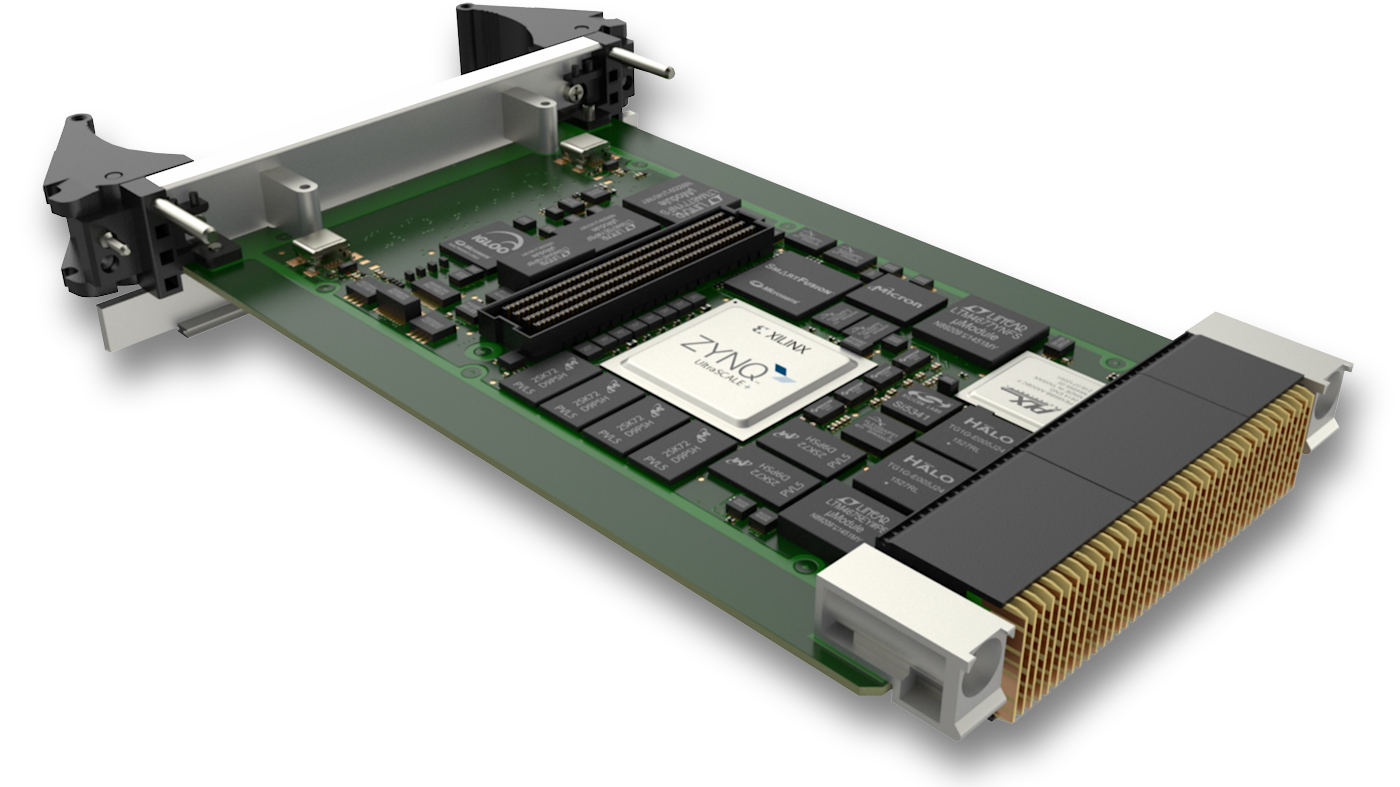 The board can be ordered with different versions of the Zynq MPSoC family of devices, coupled up to 8GB 64-bit DDR4-2400 Processing Memory with 8-bit ECC.
Up to 2GB 16-bit of DDR4-2400 is also available as the Programmable Logic Memory, allowing data streaming applications such as video CODEC and signal processing. Up to 128GB of soldered eMMC man-aged NAND Flash is available for local data storage.
The VPX3-ZU1B uses four advanced DC/DC power modules from Linear Technology using PMBus and PanaTeQ's Smart Power Management technology.
For frond-end I/O interfaces, an on-board FMC site compliant to the Vita 57.1 HPC standard with 90 SE IO (45 Diff Pairs) and 10 MGT, allowing a wide range of applications such as Software Defined Radio, Video Cam-era Processing, advanced Multi-Axes Motors controller, Multi-Gig Ether-net Communications, LIDAR/RADAR/SONAR.
The board can act as a Single Board Computer in the VPX system thanks to its on-board PCIe Gen2 Switch. When the VPX3-ZU1 is System Controller, it can manage up to eight 3U OpenVPX slots with a PCIe x1 Gen2 link per slot. There is no need to add any SBC in the VPX System, improving Size, Weight, Power and Cost (SWaP-C).
A large number of the Zynq MSoC PS peripherals are available on the VPX backplane: 2x ETH 1000Base-T, 4x USB 2.0, 1x SATA 3.1, 1x CAN-2.0B, 2x RS-232/422/485, 4x MGT, 20x GPIO, Video Out Display Port 1.2.
The air cooled PanaTeQ System Development Kit VPX3-ZU1B-PSDK is available for the developers and includes a lab chassis with 5-slots Full-Mesh backplane, the VPX3-ZU1-B1M-AS and RTM-ZU1 boards, a Pen-taLinux BSP, PanaTeQ FPGA Design Kit (PAN-FDK) and cables.
To download a full spec sheet for this product please click here.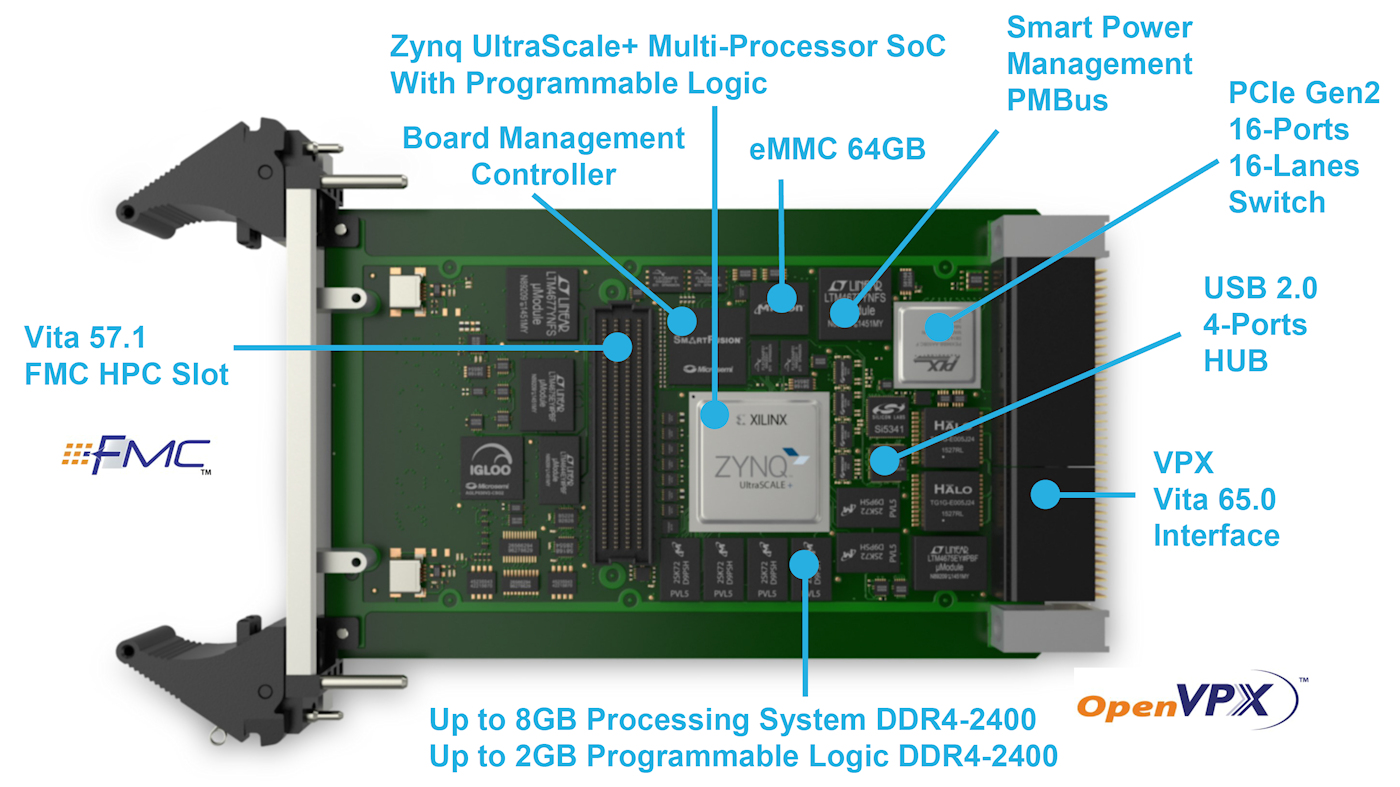 Features
3U Compliant to VITA 46.0, 46.4, 46.6, 65.0, 57.1 standards
Xilinx Zynq UltraScale+ MPSoC
ZU6xG/ZU9xG/ZU15EG FFVC-900 Package
Up to 8GB DDR4-2400 64-bit PS memory with 8-bit ECC
Up to 2GB DDR4-2400 16-bit PL memory
128MB QSPI NOR, eMMC 64GB, MRAM 512KB
On-board PCIe Gen2 Switch 16-Lanes 16-Ports with NT support
4x MGT on VPX-P1 Expansion Plane
1x Display Port 1.2 Video Out on VPX-P2
2x ETH 1000Base-BX/SGMII on VPX-P1 Control Plane
2x ETH 1000Base-T on VPX-P2
4x USB 2.0, 1x SATA 3.1 on VPX-P2
20x LVCMOS or 10x LVDS GPIO on VPX-P2
2x RS.232/422/485, 1x CAN 2.0B on VPX-P2
FMC HPC site with 90x IO / 45x LVDS, 10x MGT
Smart Power Management using 4x LTM467x with PMBus
Board Management Controller ARM Cortex-M3 based
VPX System Controller
Air Cooled and Conduction Cooled
Optional KVPX Connectors
Applications
MILCOM, Software Defined Radio, MIMO
Situational Awareness Systems
Electronic Warfare, Signal Intelligence
LIDAR/RADAR/SONAR Systems
Advanced Multi-Axes Motors Control
Video CODEC and Signal Processing