3U OpenVPX Module Xilinx Zynq UltraScale+ MPSoC with FMC HPC Site.
PanaTeQ's VPX3-ZU1 is a 3U OpenVPX module based on the Zynq UltraScale+ MultiProcessor SoC device from Xilinx.  The Zynq UltraScale+ integrates a Quad-core ARM Cortex-A53 based Application Processing Unit (APU), a Dual-core ARM Cortex-R5 based Real-Time Processing Unit (RPU), a ARM MALI-400 based Graphic Processing Unit (GPU) and an UltraScale+ Programmable Logic (PL) in a single device. It also includes on-chip memory, external memory interfaces, and a rich set of peripheral connectivity interfaces.
The board can be ordered with different versions of the Zynq UltraScale+ family of devices, coupled to 2 or 4GB 64-bit DDR4-2400 Processing Memory with 8-bit ECC. 512MB or 1GB 16-bit of DDR4-2400 is also available as the Programmable Logic Memory, allowing data streaming applications such as video CODEC and signal processing. 64GB of soldered eMMC managed NAND Flash is available for local data storage.
For frond-end I/O interfaces, an on-board FMC site compliant to the Vita 57.1 HPC standard with 90 SE IO (45 Diff Pairs) and 10 MGT, allowing a wide range of applications such as Software Defined Radio, Video Camera Processing, advanced Multi-Axes Motors controller, Multi-Gig Ethernet Communications, LIDAR/RADAR/SONAR.
The board can act as a Single Board Computer in the VPX system thanks to its on-board PCIe Gen2 Switch. When the VPX3-ZU1 is System Controller, it can manage up to eight 3U OpenVPX slots with a PCIe x1 Gen2 link per slot. There is no need to add any SBC in the VPX System, improving Size, Weight, Power and Cost (SWaP-C).
A large number of the Zynq Ultrascale+ PS peripherals are available on the VPX backplane: 2x ETH 1000Base-T, 2x USB 3.0/2.0, 2x USB 2.0, 1x SATA 3.1, 2x CAN-2.0B, 2x RS-232/422/485, 4x MGT, 20x GPIO, Video Out Display Port 1.2.
The air cooled PanaTeQ System Development Kit VPX3-ZU1-PSDK is available for the developers and includes a lab chassis with 3-slots OpenVPX CEN03-15-2-9 backplane, the VPX3-ZU1-B1-AC and RTM-ZU1-A1 boards, a PentaLinux BSP, the PanaTeQ FPGA Design Kit (PAN-FDK) and cables.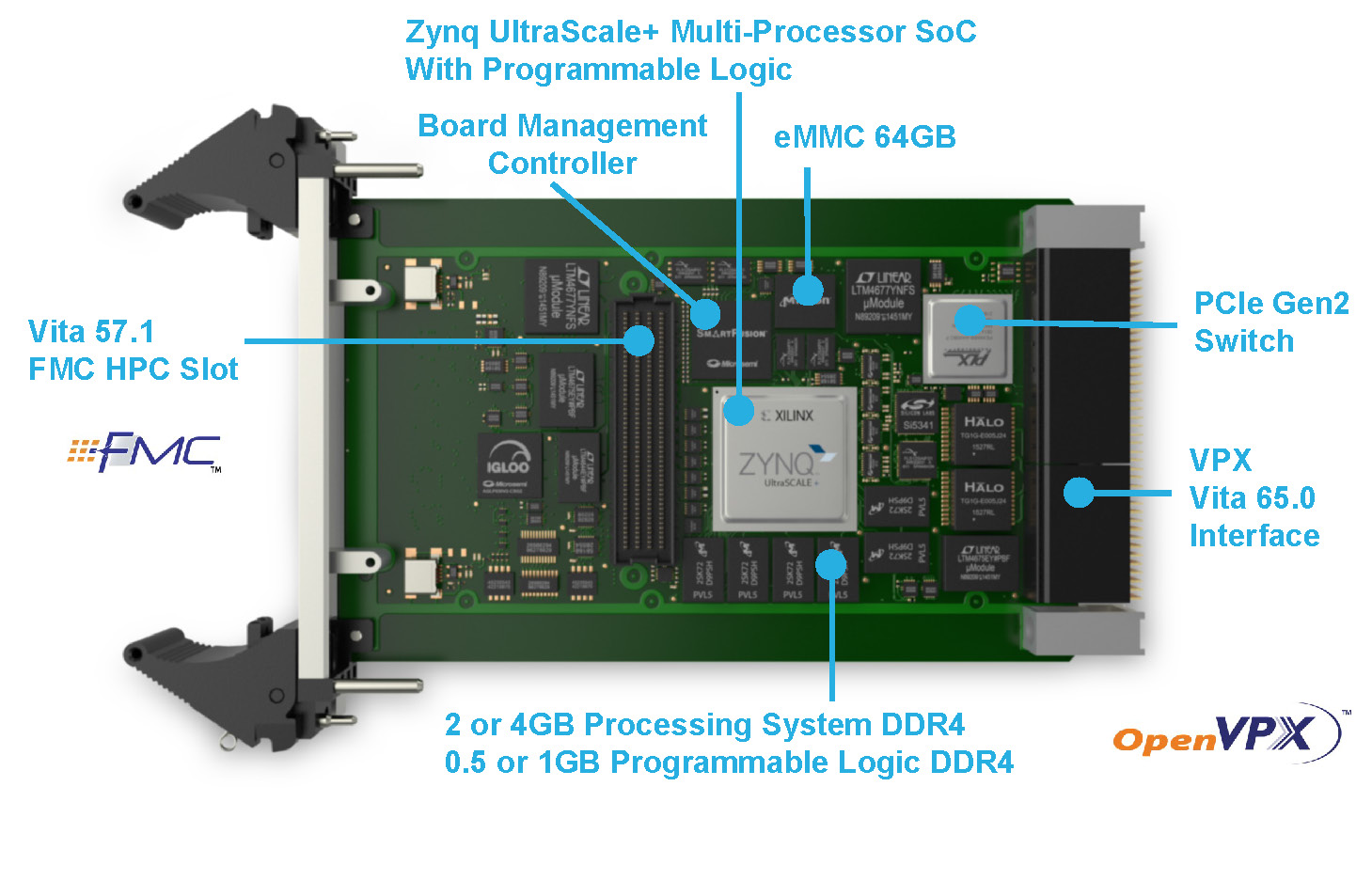 Features
3U VITA 46.0 46.4 65.0 57.1 Compliant
Xilinx Zynq UltraScale+ MPSoC
ZU6G/ZU9G/ZU15G FFVC-900 Package
2/4GB DDR4-2400 64-bit PS memory with 8-bit ECC
512MB/1GB DDR4-2400 16-bit PL memory
eMMC 64GB (V4.51), MRAM 512KB
On-board PCIe Gen2 Switch 16-Lanes 16-Ports with NT support
4x MGT on VPX-P1 Expansion Plane
1x Display Port 1.2 Video Out on VPX-P2
2x ETH 1000Base-X on VPX-P1 Control Plane
2x ETH 1000Base-T on VPX-P2
2x USB 3.0, 2x USB 2.0, 1x SATA 3.1 on VPX-P2
20x LVCMOS or 10x LVDS GPIO on VPX-P2
2x RS.232/422/485, 2x CAN 2.0B on VPX-P2
FMC HPC site with 90x IO / 45x LVDS, 10x MGT
Board Management Controller ARM Cortex-M3 based
VPX System Controller
Air Cooled and Conduction Cooled
Applications
MILCOM, Software Defined Radio, MIMO
Situational Awareness Systems
Electronic Warfare, Signal Intelligence
LIDAR/RADAR/SONAR Systems
Advanced Multi-Axes Motors Control
Video CODEC and Signal Processing
Ordering Info
Ordering Info

Block Diagram
VPX3-ZU1_BlockDiagram

VPX3-ZU1_Processing_System

To download a full spec sheet for this product please click here.